Family sailing far away on a light and robust catamaran, that was the One off project built in 1999.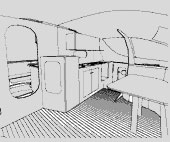 The little wetted area and generous sails guarantee high performances even in light wind.
The fittings combine the warmth of the wood with the little density of modern materials and textiles. Very comfortable on sea, One Off 45' enables to envisage cruises with a crew of 6 to 8 persons. The organization of the deck and the simplified manoeuvres will nonetheless suit for a reduced crew or solo sailing.
One Off 45' has been produced using very simple moulds. It has been produced twice.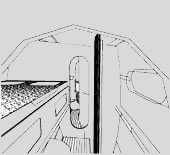 Specifications
– Lenght  ………………………….. 13.80 m
– Width ………………………………7.90 m
– Weight…………………………..6.3 tonnes
– Draft (daggerboards up):  ………. 1.10m
– Draft (daggerboards down): …….2.30m
– Upwind sail area……………………110m²                            Essai  Multicoques magazine: One Off 45′
– Engines……………………………..2x20cv                             Essai  Loisirs nautiques: One off 45′